Road Trip to Algonquin Park and the Logging Museum Trail
My daughter and I are big fans of hands-on education.  With no school on Monday (Family Day, a statutory holiday here in Ontario) we decided to take a road trip to Algonquin Park.  We packed up some healthy snacks, brought our hiking gear and jumped in our old red truck, Miss Scarlett, to make the journey.
Algonquin Park was the first provincially protected park in Ontario.  It has both deciduous and coniferous forests and it covers  7,630 square kilometres of land and water. (That's 2946 square miles).  One road goes through the north end of the park, Highway 60.
According to the website,
"For most of Algonquin's history, human settlement was not a very important element. Scattered family groups of aboriginal peoples came to fish, hunt and pick berries, but their numbers were never large. It was not until the 1800s that big changes came to the rugged Algonquin highlands.

Pioneer loggers pushing up from the Ottawa Valley reached Algonquin in search of the great White Pine trees whose prime wood was increasingly in demand by an expanding British economy.

Living in remote, primitive camps, they felled and squared the giant pine, and when spring came, drove them down swollen rivers to the Ottawa River and the outside world.

Algonquin was established in 1893, not to stop logging but to establish a wildlife sanctuary, and by excluding agriculture, to protect the headwaters of the five major rivers which flow from the Park. "
If you've never been to Algonquin Park, I highly recommend it.  We've been there several times in the summer, but this was our first winter trip.
Part of the reason I wanted to go on this road trip is…we've been living up North for 6 months and I have yet to see a moose.  I really want to see one!  I see lots of tracks but they seem to be hiding from me.  We've seen lots of other animals – deer, a bear, foxes, a wolf or coyote (it was at a distance so I couldn't tell for sure), beavers, chipmunks, voles, squirrels, rabbits – but alas, no moose!  Sadly, no moose appeared during this trip either, despite the warning sign.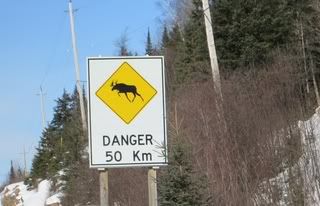 Our first stop was at the Visitor's Center.  This building houses a restaurant, a wonderful deck for observing the untouched wilderness, and a museum.  We spent about 2 hours at the Visitor's Center.  We learned about the history of the logging camps in the area and also about the flora and fauna of Algonquin Park.  Some photos:
After lunch in the little cafeteria, overlooking the beautiful scene from the observation deck, we donned our snow gear in the bathroom and drove down the road to the Logging Museum.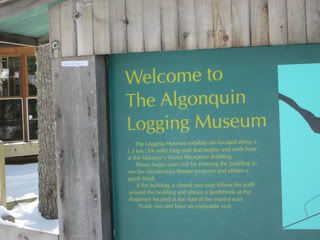 The Logging Museum Trail is actually an outdoor hike of not quite a mile – it would be a super easy walk in nice weather, but  in the slippery snow it's a bit more strenuous.
The trail takes you through the history of logging, starting with a recreation of a "Camboose Shanty" and  continuing through with displays of logging equipment, another logging camp, and transportation and equipment from the middle of the 2oth century.
Not only did we get to see all this stuff, but because there are few visitors this time of year, we got to see a lot of animal tracks that we identified using our new score from the park bookstore.
The first stop on the trail is a Camboose Shanty.  This is a type of shack that was erected by the loggers.  It was very cold and drafty.  We learned that the men used to sleep 2-3 to a bunk for warmth and that they did not change socks and underwear for the entire winter unless those items wore out (ew). They used mud to chink the holes.  Bunks were around the perimeter of the shack with a large open fire in the center for cooking and for heat.  The bunks were all joined together in order to help the men share body heat, and you climbed through the end to get into bed.
The next displays were the methods of cutting and moving the logs.  You can actually climb around on most of these displays, which makes it more interactive.
The next stop was a slightly more contemporary logging camp.  By the 30s, loggers lived in camps with separate buildings for separate functions.  There was a building for blacksmithing, a stable, a kitchen/dining hall, and a bunkhouse.
These buildings were more sturdily built than the shanties that came before them.
The last displays were some machinery and transportation.  These didn't thrill me as much as the old-fashioned buildings (which really got my survival brain in high gear) but my daughter loved them.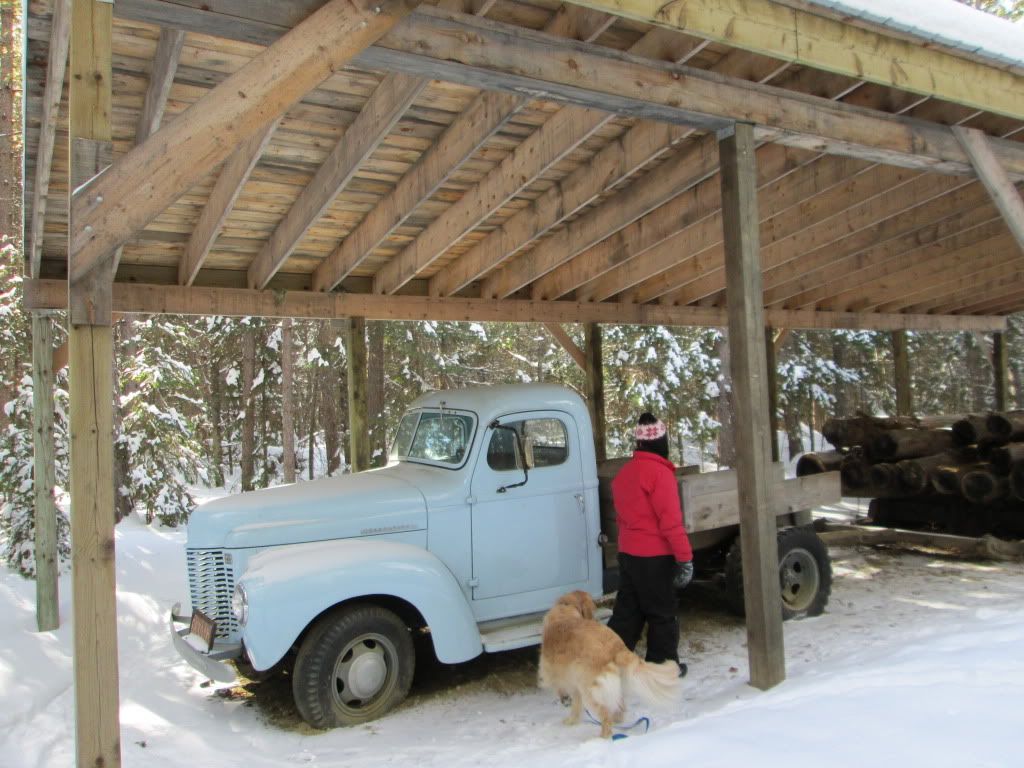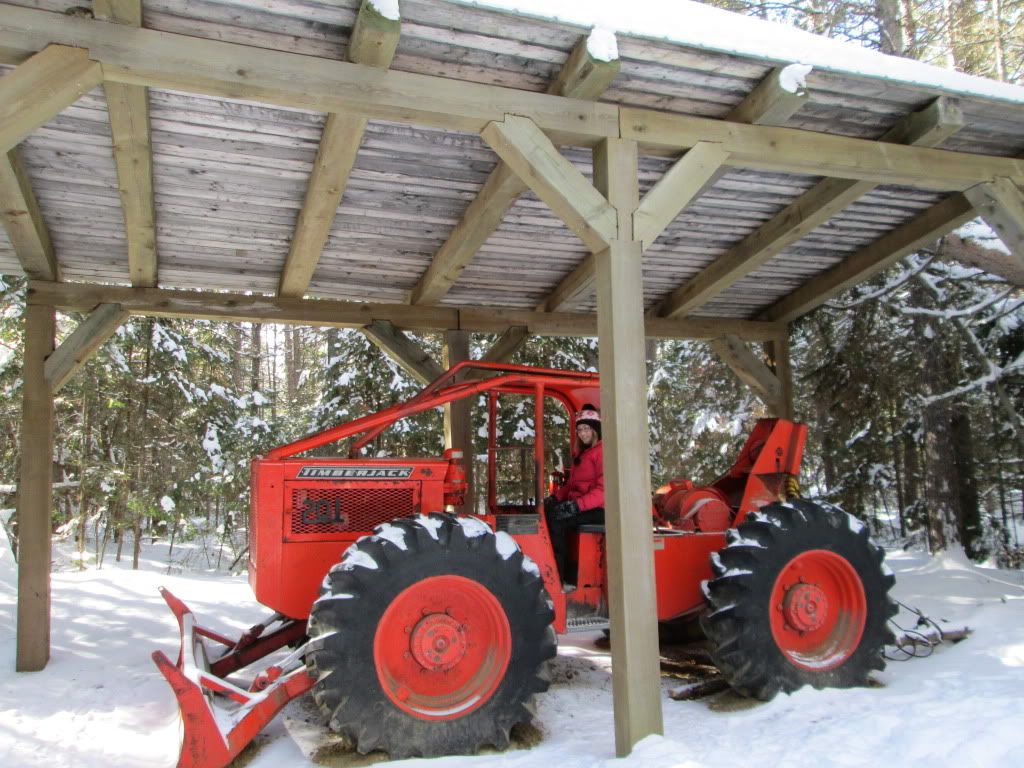 This was one of our most interesting day trips.  The thing that fascinated me most of all was learning about the men who lived in this rugged cold area so many years ago, and how they dealt with the elements.  My favorite display was the original little shanty because it seems to me this is "true survivalism" – going out there and building a shelter with your hands and a few manual tools, and gritting your teeth and enduring the bitter climate.
I'll leave with with two beautiful sights we saw on the road home.
About the author:
Please feel free to share any information from this site in part or in full, giving credit to the author and including a link to this website and the following bio.
Daisy Luther is a freelance writer and editor.  Her website, The Organic Prepper, offers information on healthy prepping, including premium nutritional choices, general wellness and non-tech solutions. You can follow Daisy on Facebook and Twitter, and you can email her at daisy@theorganicprepper.ca
Share this: